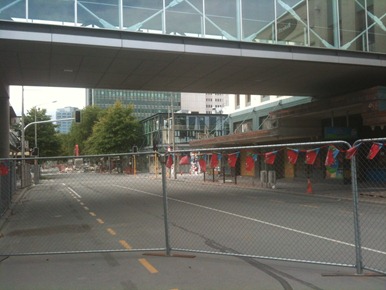 First of, where has the year gone?
On my walk to work this morning, I stopped at the fence for the first time and peered through to the ever so eerie and deserted Red Zone. In my pause for reflection I thought it's quite a weird feeling to think a year ago at this time of the morning people were going about the start of their day, getting ready for work or even going home from work after a busy night shift and little did we all know in less than 28 hours this would be the last time we would walk those city streets, visit that cafe on the corner to buy that morning coffee and yet as I continued to walk around the corner now with the Re:start Mall in front of me I began to smile again to see exactly what I had just been thinking about, was actually still here and happening it is just on a smaller scale.
As I got closer to work, Re:start was much busier than usual at this time of the morning, the hustle and bustle of the world's international media was evident by all their cables carrying their live reports back to their country.
The rest of the day with slightly unusual, customers and people I spoke to somehow – most without realising – had some sort of urgency to their requests, some almost like the world was going into end tomorrow and everything must be done today. All so as the ever-growing number of photographers tripping over other photographers trying to snap that all-important picture of the Governor General as well as the Prime Minister and other Government Ministers as they toured the temporary Re:start container mall, this was a another reminder that this week was not like any other normal working week.

Whilst writing this now reflecting on my day to today and thinking about tomorrow's memorial service and the two-minute silence at 12:51pm which will mark exactly one year from the day we lost 185 people, our city and only now have our memories to hold onto. We will all so all remember exactly what we were doing at that point, at that time, on that day.
I had a customer who said to me "tomorrow is my partner's birthday and having a birthday now on the 22nd of February won't be the same any more and were actually going to celebrate it on the 23rd." That I think is a good example of how this event has affected everyone in their own certain way and as I still get a wee bit excited about the future of Christchurch, it will never be the same Christchurch as I knew it when I moved here nine years ago.
And so I leave you with this:
"Dare I say it, I miss the boy racers!

Well, when they were there, life was normal." – SUE MEADOWS, RESIDENT
.