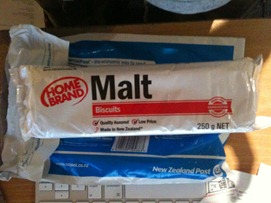 So on my recent visit to Auckland I decided I wanted to test out Parcel Post PO Box Priority mail bag which is a service that New Zealand Post offers.
It's an economic way of sending parcels to any P.O. Box or private bag with the New Zealand and has a target delivery of the next working day, so me being me I gave it a go.
The results;
I purchased the smallest bag which cost a very reasonable $4 which includes delivery from the post shop on Queen Street.
I then went to Countdown and purchased a packet of Home Brand Malt biscuits and left them in their original packaging and popped them inside the parcel post bag and dropped it in the new Parcel DropBox which are now inside most post offices.
So back to Christchurch and the next day I went to the post box expecting my parcel, however it was not there! Now it does say on the back about the target delivery: "Target Delivery: next day* *Next working day is a target delivery only and we do not guarantee that your item will be delivered in this time. Deliveries to rural and remote areas may take longer."
So I shall give them slight forgiveness for not making it in time, but considering it was going from central Auckland to central Christchurch I'm not sure what held it up.
Now, the next day it arrived, on inspection the outside had been scuffed quite a few times and as you can tell from the pictures below the biscuits suffered damage to the two ends, but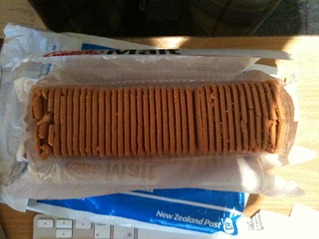 overall I'm quite surprised how they fared as the middle biscuits are completely undamaged.
In conclusion I'm happy with the service, obviously you wouldn't be sending a packet of biscuits through the mail without protection and expect them to come out like new at the other end, so in my mind one or two layers of bubble wrap would have saved them. But as I didn't want to test it with bubble wrap or any other protection I have a delicious Cheesecake Recipe which requires crushed biscuits for the base.
Hope this helps someone.