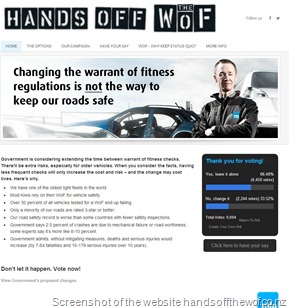 Just a quick update from me about the proposed changes to the WOF (warrant of fitness) and COF (certificate of fitness) that the government is now considering. I've already had my say and you can too and I strongly advise you do if you're a vehicle owner.
My reason for making this post is not necessarily because of the changes, it's more to do with the campaign "Hands Off The WOF" which is funded by MTA Assured and featuring Greg Murphy.
You may have seen the recent TV ads or heard the radio ads about how the changes could be dangerous and that the "government has underestimated the contribution that vehicle defects make to crashes" that said, I'm beginning to wonder actually how much the MTA are worried about road safety with this campaign and more about money…
Now before you start screaming at me I'm sure they do care about safety but I just want to point out a few interesting facts.
VTNZ for example does a WOF as well as a whole raft of other things, but focusing on the WOF aspect, if the government's proposed changes go through a vehicle will be subject to less frequent WOF inspections and therefore obviously less visits to VTNZ equalling a loss in money for them in this case.
Now you may be wondering what this has to do with MTA and their new campaign? Well guess who owns Vehicle Testing New Zealand Limited (VTNZ)?…
Vehicle Testing Group Limited which is owned by none other then MTA Group Investments Ltd.
So it's up to you as the public to decide whether you think it's safer to keep the current system or change it to a new alternative, the changes will affect not just VTNZ and other major testing stations but also your little corner garage – So think wisely and don't be swayed by a company who makes money from warrant of fitness etc.
Update 29/08/13: DEKRA purchases a 60% stake in VTNZ